JUAC
The Joint Union Asbestos Committee (JUAC)

"The Joint Union Asbestos Committee (JUAC) is formed from the union of members of the Asbestos in Schools Group (AiS).  JUAC works in conjunction with the AiS and supports its aims and objectives.
JUAC is a non-party political group, it's members are ASCL, ATL, NASUWT, NAHT, Voice, Unison, Unite the Union, UCATT and GMB.
JAUC and AiS have a common interest in making schools and colleges sage from the dangers of asbestos, both for staff and pupils.
In the long term we wish to see all asbestos removed from all schools.  However we recognise that, realistically, the focus in the short and medium term must be on safe management of asbestos in schools and colleges.
JUAC fully supports the Right To Know: Asbestos in Schools, Wales Campaign and calls on the UK government to introduce a policy or openness about the issue of asbestos in UK schools and colleges."
Macmillan
Macmillan Cancer Support in Wales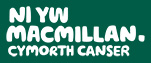 "Macmillan Cancer Support in Wales is pleased to support the Right to Know campaign. Every year around 2,400 people across the UK are diagnosed with mesothelioma. Asbestos is the most common cause of mesothelioma with up to 9 out of 10 cases caused by exposure to asbestos fibres.
More than one in three of us will get cancer. For most of us it will be the toughest fight we ever face. But you don't have to go through it alone. The Macmillan team is here to support you every step of the way. We have a team of experts who can answer any questions you have, offer support, or simply listen if you need a chat.
Call us free on 0808 808 00 00.
Mesothelioma UK
Mesothelioma UK supports the Asbestos In Schools Right to Know Campaign
"Mesothelioma UK is glad to be able to support the Asbestos In Schools Right to Know Campaign. Asbestos can have a devastating effect on peoples lives often several decades after exposure has occurred.
We should seek to rid our society of asbestos but in the meantime it is vital that its presence within buildings is documented and made public so that everyone can be aware of the dangers."
NAHT
NAHT, For Leaders, For Learners
NAHT is an independent trade union and professional association representing school leaders in England, Wales and Northern Ireland. Members include head teachers, deputies, assistant head teachers, bursars and school business managers across all phases of education.
We take the issue of the management of asbestos in schools very seriously and work through the Joint Union Asbestos Group to try to influence the Health and Safety Executive and respective governments to address this issue much more effectively and provide more training, guidance and funding to both manage asbestos and remove it where it is best to do so. As part of this, we support the Right to Know campaign to improve the information on asbestos in schools
NASUWT CYMRU
NASUWT The Teacher's Union
NASUWT The Teacher's Union is delighted to support the Asbestos – Your Right to Know campaign.
NewLaw Solicitors
Right to Know: Asbestos in Schools Wales is backed by Cardiff-based law firm NewLaw.
NewLaw believe that the danger posed to children and teachers in school buildings is one we can no longer ignore.  More and more people are dying of mesothelioma each year and it is time to take notice.
The campaigning law firm believe strongly that, in the days of freedom in information, parents should be able to easily access whether asbestos is present within their child's school.
The firm also believes that parents should be made aware of the management plans put in place at the schools in which asbestos is present, and further, details of the duty holder who is responsible for the management of the substance.
Cenric Clement-Evans, asbestos expert and campaigning lawyer of NewLaw said:
"Those working in or attending schools are at risk of developing the fatal chancer mesothelioma in the future if asbestos, which is widely used in school buildings between the 1940s and 1980s, is inadvertently disturbed."
"We need to assess the extent of the asbestos risk before we can manage it.  One thing is for certain; we need to better manage the legacy of asbestos in Wales for the sake of our teachers and schoolchildren."
"The problem is that whilst individual schools shoudl have their own asbestos register, it is not clear how many schools are affected in total and the extenet of the presence of asbestos."
"It is now time for a central register in Wales so we can understand precisely how widespread the risk is."
NUT Cymru
NUT Cymru support 'Right to Know: Asbestos in Schools Wales' campaign.
"NUT Cymru are happy to support the 'Your right to know' campaign. It is important for the health and safety of those working in schools, and the children taught in them, that the potential hazard of exposure is evaluated and is managed properly.
There is far too little information about asbestos in schools and that has to be addressed. Through our joint working, and the dedication of this campaign, we can make sure that no one is put unnecessarily at risk in the future."
Tenovus
Tenovus is Wales' leading Cancer Charity
Tenovus is Wales' leading Cancer Charity whose aims are simple: to help prevent, treat and find a cure for cancer.  Tenovus offer support, advice and treatment for cancer patients and funding for research to improve the outcomes for people with cancer and they do it right where it is needed most – at the heart of the community.
Tenovus is supportive of the Right to Know initiative.  Wales has been, and still may be a hotspot for asbestos exposure.  Eradication of asbestos in the workplace, home and schools is essential to prevent new cases of asbestosis and related cancers.  Tenovus is also concerned with the inevitability of a large number of people in Wales, already contaminated by asbestos, developing cancer.  Mesothelioma – cancer of the lining of the lungs – is incurable, and not perceptable once inhalation of asbestos occurs.  We need to support patients emotionally and financially while working to find an early diagnostic test, which predicts who will get mesothelioma and equally as important, who will not.
UCAC
Mae UCAC yn cefnogi'r ymgyrch 'Asbestos – eich hawl i wybod,
UCAC supports 'Asbestos – Your Right to Know' campaign
Mae'n fraint gan Undeb Cenedlaethol Athrawon Cymru (UCAC) gael cefnogi 'Yr Hawl i Wybod: Asbestos mewn ysgolion yng Nghymru' er mwyn ymgyrchu tua'r nod o wneud ysgolion a cholegau yng Nghymru'n ddiogel rhag peryglon asbestos, i'r rhai sydd yn gweithio ynddynt ac i'r disgyblion.
Yng Nghynhadledd Genedlaethol 2013 UCAC eleni cawsom gwmni Cenric Clement-Evans wrth iddo godi ymwybyddiaeth o'r ymgyrch a chafwyd cefnogaeth unfrydol y Gynhadledd i hybu'r ymgyrch ac i weithio gyda'r ymgyrch er mwyn sicrhau gweithle diogel ac yn y pen draw yn weithle rhydd o asbestos.
Undeb Cenedlaethol Athrawon Cymru (UCAC) is privileged to support 'The Right to Know: Asbestos in Schools Wales' in order to campaign towards the aim of making schools and colleges in Wales safe from the dangers of Asbestos, to those working in them and for the pupils.
During the 2013 UCAC National Conference we were joined by Cenric Clement-Evans who raised awareness of the campaign and there was unanimous support from the Conference to promote the campaign and to work with the campaign to ensure a safe working environment and a workplace which would be free of asbestos.
UNISON
UNISON SUPPORTS 'ASBESTOS – YOUR RIGHT TO KNOW' CAMPAIGN
UNISON Cymru/Wales has become a campaign partner in the 'Asbestos – Your Right to Know' campaign, which is calling for the creation of a central accessible register of asbestos schools in Wales.
The issue of asbestos in Welsh schools, which will be raised twice this week within the National Assembly for Wales, is becoming increasingly important as more is understood about its' effects.
Dominic MacAskill, UNISON Cymru/Wales head of local government, said
"UNISON is really pleased to be a part of the 'Your Right to Know' campaign. We fully support the disclosure of information about asbestos in schools for parents, pupils, and the schools workforce.
"Approximately 100 people die each year as a result of exposure to asbestos and that is 100 people too many. UNISON will continue to campaign for the rights of workers and the rights of our future generations to be safe in schools.
"UNISON has an arrangement with our solicitors, Thompsons, to register members who believe that they have been exposed to asbestos and would have a legal claim if they developed a related illness.
"We are in full support of steps being taken by the Welsh Government to introduce an Asbestos Wales Bill to recoup the costs of asbestos related illness and death, but we are calling for the Welsh Government to go one step further and make details of asbestos schools in Wales public.
"We know the dangers associated with asbestos and we must do all we can to minimise those risks."
Voice
Voice: the union for education professionals
"Voice: the union for education professionals, aims to protect education workers and pupils by raising awareness of asbestos in schools and promoting improved management of asbestos in schools and other education sector buildings. Voice is a member of the Joint Union Asbestos Committee (JUAC) a group of the education unions which shares those objectives".
The Wales Cancer Alliance
The Wales Cancer Alliance
"The Wales Cancer Alliance is pleased to support the Right to Know campaign.
The Wales Cancer Alliance consists of ten voluntary organisations (Cancer Research Wales, Cancer Research UK, Macmillan, Marie Curie, Tenovus, Help the Hospices, Clic Sergeant, Maggie's, Breast Cancer Care, Mylema UK ) dedicated to promoting the best cancer prevention, treatment, research and care for people in Wales.
Every year we invest more than £20m in Wales and contribute to the development of cancer policy.".
British Lung Foundation Wales
British Lung Foundation Wales
"Lung disease affects more than 12 million people across the UK. The British Lung Foundation is here for every one of them. We are leading the fight against lung disease to make sure no one has to face it alone.
Mesothelioma is one of our 5 priority area lung conditions and it's estimated that 2,500 people will die of the disease, most of whom having been innocently exposed to asbestos in the workplace. Over the next 30 years, around 60,000 people will die of mesothelioma in the UK unless new treatments are found.
There's currently no cure and mesothelioma patients often have a short life expectancy – fewer than 10% of those diagnosed survive just three years after diagnosis. Despite this, mesothelioma research receives a fraction of the funds invested in cancers that kill a similar number of people, such as myeloma and melanoma.
We want to see asbestos safely removed from our schools, so that children, teachers and other staff are not exposed to this dangerous substance."